Envoy International
Australia visa Consultant in Vadodara
Envoy International is a renowned Australian immigration consultancy that provides services in Vadodara, India, and provides support related to the acquisition of Australian visas and immigration status.
We have supported hundreds of people in migrating to Australia as well as traveling there in order that they may start their new lives there.
You can be confident that Envoy International Consultants possesses the experience and knowledge necessary to make the process as simple and straightforward as it possibly can be, whether you are looking for an immigration visa to Australia or you need to apply for an Australian visa for your parents or partner. If you are looking for an immigration visa to Australia, you can contact Envoy International Consultants at Vadodara.
Apply Now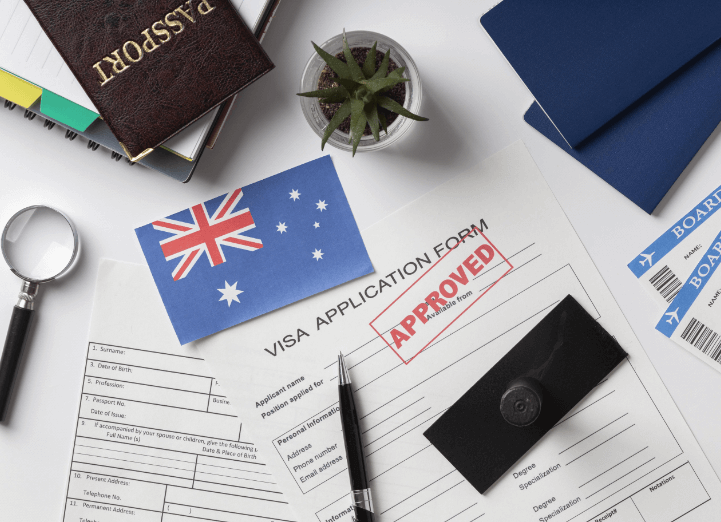 How does one immigrate to Australia?
Employer Nomination Scheme visa (subclass 186): Direct entry stream
In order to qualify for this visa, you need to have a work offer from an Australian company that is on the government's approved list of skilled professions.
You must have at least three years' worth of professional experience.
You need to have a favorable skills evaluation result, to get the job.
You are needed to acquire a nomination from your employer in Australia who can verify that their firm is properly and actively operating. You are obliged to submit the visa application no later than six months after the nomination has been granted.
You must be younger than 45 years old at the time of application.
You need to be in good physical and mental condition to qualify.
You should have a good command of the English language.
Envoy International
Immigrate to Australia without a job
Moving to Australia is something you should consider even if you do not have a job lined up before you go there. The point-based Australian Immigration System will award you with more points and enhance the total score of your profile if you travel to Australia with a work offer. On the other hand, if you travel to Australia without a job offer, your score will decrease.
The government of Australia offers a number of different visa options, each of which corresponds to a different set of requirements that must be satisfied in order to be eligible for the visa. This is done in an effort to make the process of migrating to Australia as simple and straightforward for you as it possibly can be. Envoy International, Vadodara is here to assist you in selecting the sort of visa that is most appropriate for you based on the needs that you have, and to guide you through the steps of applying for that visa.
Subclass 189 visa
Applicants for the Skill Independent Visa Subclass 189 do not need a work letter or sponsorship from an Australian business in order to participate in the program. Instead, these requirements are removed. When determining whether or not to accept your application, this system takes into account a wide range of information about you, including your age, level of education, years of work experience, talents, language abilities, and so on. The applicant receives a certain number of points in accordance with these credentials, and as a direct result of this, they are considered for the post.
Process for making an application
The minimum score required to pass the IELTS language test is six points.
You are required to present a skill evaluation certificate obtained from a reputable institution.
You need to acquire some hands-on experience in one of the jobs that are listed on the SOL before you can make an informed decision on the kind of career you want to pursue.
Send skill-select an expression of interest, also known as an EOI, and they will be in charge of managing your immigration. skill-select is also known as the expression of interest.
Make a demand for an expression of interest to be submitted.
Subclass 190 visa
If you have been nominated by a state or territory in Australia, you are eligible to apply for this particular type of visa. The benefits that come with this visa are the same as those that come with the Skilled Independent visa (Subclass 189).
Everyone must meet the same requirements in order to submit an application, with the exception of those who must demonstrate work experience in one of the professions featured on the Skilled Occupations List.
In order to be taken into consideration, candidates must select a career from the Consolidated Sponsored Occupation List (CSOL) and submit their profiles together with the required documentation. Their skills have to be transferable to the qualified skilled vocations that are in demand in that specific region of Australia in order for them to be considered.
Process for making an application
Pick a career in CSOL that makes use of your skills and passions, and you'll be happy (Consolidated Sponsored Occupation List).
Fill out an Expression of Interest form and then send it to the appropriate department at the Australian Immigration Department.
After being given an invitation to apply for the position, you will need to submit your application together with the required documentation as soon as possible.
A score of at least 6 bands on the IELTS language test is required.
You need to acquire at least 65 points in order to pass the exam based on points.
You will need to provide not just a certificate of clearance from the police and also a health certificate in order to establish that you are in good health and do not have any past convictions that would prevent you from working with children.
Envoy International
Choose Your Country






Family sponsorship program
You may be eligible for this program, which would enable you to emigrate to Australia without the requirement of a work offer if you have a family member who is a citizen of Australia or a Permanent Resident of Australia. If you have a family member who falls into either of these categories, you may be eligible. If a member of your close family, such as a spouse, parent, child, or sibling, is willing to act as a sponsor for your permanent residence visa, then you can decide to follow this way instead of the other options available to you.
The Program for the Innovation and Investment of Businesses
Through Australia's business visa program, overseas investors, top executives, and company owners can create new companies or develop existing ones in the country. These people can also use the program to migrate to Australia on a permanent basis if they choose to do so.
Who is allowed to migrate to Australia?
In order to be eligible for a work visa in Australia, which is the fundamental need for immigration to Australia, you need to have a minimum score of 65 points. However, if you score between 80 and 85, you will have a more significant chance of being approved for immigration to Australia and a permanent residence visa. When calculating a person's score, a variety of characteristics, including qualification, age, job experience, and adaptability, are taken into consideration.
Essential conditions for anyone seeking to immigrate to Australia
Points:

You need to have at least 65 points in the points category to qualify.

Age:

somewhere between 15 and 44 years of age
The score that you received on either the Pearson Test of English or the International English Language Testing System (IELTS).

Skill Assessment:

Evaluation of skills conducted by a reputable authority in Australia.

Occupation:

The line of work has to be on either Australia's Skilled Occupation List or the Priority Migration Skilled Occupation List in order to be eligible for immigration to Australia (PMSOL).
Envoy International
Talk to Our Visa Experts
Monday - Saturday | 8.00 - 18.00
Contact Us
What kind of expenses are associated with moving to Australia?
The following is a rough calculation of how much the application for a visa will set you back in total:
AUD$ 6,000 to AUD$ 8,000, with the amount varying depending on whether or not your application is submitted under the Skilled Migration Program, and if your application is successful.
The application price for the Business Migration Program might range anywhere from AUD$ 8,500 to AUD$ 15,000 for each individual.
In addition, the expense of relocating to Australia might be over 20,000 Australian Dollars.
Is it possible to purchase citizenship in Australia?
It is possible to apply for citizenship after living in Australia for three to four years, including one year as a permanent resident, but there is no direct Citizenship by Investment program in Australia. However, it is possible to apply for citizenship after living in Australia.
There is a reason why Australia is routinely named one of the best destinations in the world to make a permanent home. People from all over the world who have advanced degrees and years of professional experience move to Australia because of the country's outstanding level of life and stable economic prospects.
Envoy International in Vadodara offers a wide variety of services, including prompt responses and individualized recommendations for each problem.
Envoy International
Let's Stay in Touch