Envoy International
US Dependent Visa: A Definitive Guide for 2022
When considering where to go for a job or school, the United States has historically been at the top of the list.
Those with a relative already living legally in the United States (either as a permanent resident or on a work or student visa) can also apply for a dependent visa USA student or a spouse visa.
Visa applications might be challenging to complete. But rest assured, Envoy International will do everything we can to make your trip go off without a hitch.
Apply Now
USA Dependent Visa Details
Numerous programs allow dependent visa USA for spouse, students, professionals, and business owners to bring their families to the United States.
The following are examples of popular dependent visa applications:
A dependent visa USA for parents with an F1 visa can accompany them to the United States on an F2 visa.
In the United States, those with an F2 visa are restricted from engaging in any gainful employment or educational pursuits.
Dependents of those in the United States on J1 visas for research, medical, or business training are allowed to enter the country on J2 visas.
Family members of H-1B visa holders are eligible to apply for an H4 visa, which allows them to work and attend school in the United States.
Athletes, scientists, asylum seekers, refugees, witnesses, permanent residents, citizens, and anyone legally residing in the United States may apply for a dependant visa to bring their family members to join them in the United States.
Envoy International
Choose Your Country






Who qualifies for a Dependant visa?
Anyone working, living, or attending school in the United States can apply for a Dependent Visa for their immediate family members.
One or more of these possibilities applies to them:
A partner in marital (same-sex or opposite).
A person under the age of 21 who is not married.
The US Citizenship and Immigration Services (USCIS) has strict requirements that applicants' dependents must meet (the United States Citizenship and Immigration Services).
The Dependent Visa cannot be applied for by family members currently in the United States on a visitor visa.
The United States welcomes international students and their families at any time. The dependents may apply for an F-2 or J-2 visa.
Required Documents for US Dependent Visa
You should submit as much supporting information and paperwork as possible while applying for a visa. To ensure that your application and supporting materials are in tip-top shape, your Envoy International consultant will help you with every step of the process. These are some examples of the paperwork you might need:
Your passport and past trips
Explanatory Materials
Legal proof of your spouse or partner, such as a marriage certificate
Pictures and other evidence of the relationship
The sponsor's income must demonstrate adequate funding.
Submitted application with payments for the consulate
Mastery of the English Language
Your child must be under 18 years old at the time of application if they are to be considered for the position of "parent."
The spouse and children of H1B workers can apply for H4 visas. The H4 dependent Visa allows holders to pursue their pursuits in the United States, including education and employment.
What is the Dependent Visa Processing Time?
The dependent visa USA for spouse processing time can vary. Visas typically take between 15 and 30 business days to process.
Several factors, like an embassy or consular wait times, the speed with which your paperwork is processed, the type of Dependent visa USA you are applying for, and so on, can significantly extend this time frame.
The timing of the sponsor's visa application submission also plays a role. If both of you apply for a visa, it will be processed simultaneously.
Setting up an interview can be a time-consuming and frustrating process. Therefore, early applications are encouraged.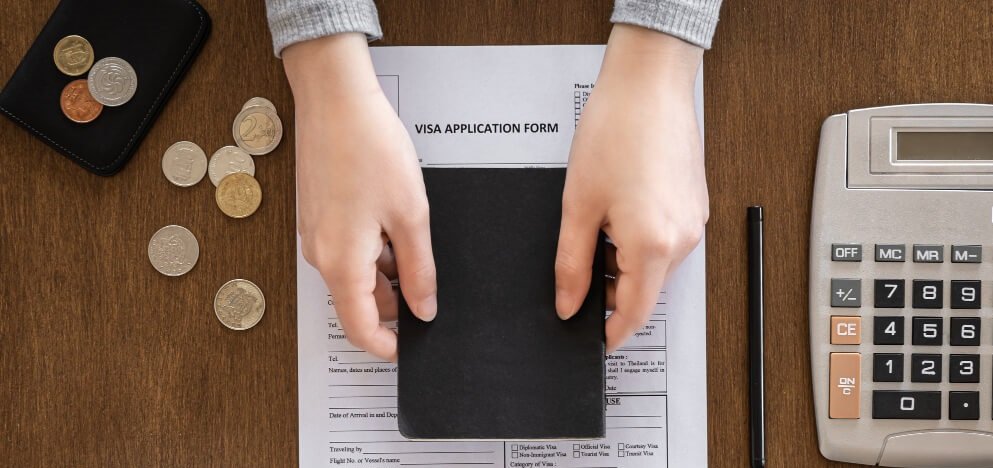 What are the Costs for a US Dependent Visa?
Depending on the level of assistance you require, the cost of a US Spouse visa can range from $1,200 to $5,000. (The price may change based on your visa type.)
Envoy International
Talk to Our Visa Experts
Monday - Saturday | 8.00 - 18.00
Contact Us
Envoy International
Let's Stay in Touch