Envoy International
How to apply for a working visa in Australia?
Do you want to know how to get a working visa in Australia?
In this detailed guide, we will understand the process of working visa applications in Australia.
Australia is a place of possibilities where you can find a job for your skill set. We at Envoy, are here to help you through this journey and guide you toward the path of your dream job. The initial information that you need to know to apply for a working visa in Australia is mentioned below:
You must apply for one of the below-mentioned visa categories to obtain an Australian work permit visa
Skilled Migration Visa – Foreign workers with the skills that Australian employers need are eligible for this type of visa.
Nominated/Sponsored Work Visa – This visa is given to people nominated or sponsored by a state authority, a recognized Australian employer, or a state or territory government agency.
Having to work in Australia is predicated on the Visa type you apply for. But even so, various requirements are listed below.
A high IELTS score demonstrates your command of the English language.
Your nominated occupation must appear on the Skilled Occupation List SOL.
You need the required qualifications and experience for the position you are applying for.
Your abilities should be evaluated by a known Australian Assessing Authority. The requirements for character and health must be met.
Australian Work Permit Visa
When applying for an Australian work permit visa, it is advised that you take the help of an Australian work visa agent. The various types of Australian Work Visas are listed below
Top Countries To Travel Abroad
Envoy International
How to get a work permit visa for Australia from India?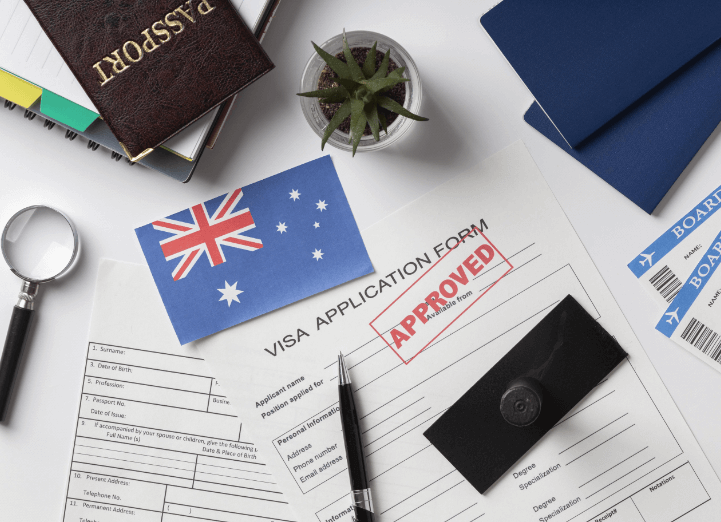 If you are someone who wants to apply for an Australian work permit visa, we are here to assist you through the process. It is not always necessary to look for a work permit visa only when you are in the country or have visited it. There are a certain set of criteria that you must fulfill to apply for a work permit visa in Australia.
Below are a set of things and the method for applying for a work permit visa from Australia from India.
The following is the method for applying for an Australia Work Permit Visa from India:
IELTS score in the required bands
Obtain the results of a skills assessment from a relevant authority.
Choose an appropriate profession for nomination from Australia's Skilled Occupation List.
Choose an appropriate occupation for nomination from Australia's Skilled Occupation List.
For a Sponsored Visa, ensure you have the necessary sponsorship/nomination.
You must apply for a suitable skilled visa to gain permanent residency in Australia i.e., subclass 190, 189, and so on. Applicants may also apply for the Regional Provisional Visa 491 subclass.
Score at least 65 points under Australia's point-based system; however, the higher your score, the better your chances of obtaining a PR Visa.
If you get an invitation to apply for a Visa, you must do so within 60 days.
Obtain the necessary health and character certifications.
Envoy International
IELTS Scores and Visa Cost
Is IELTS required for a work visa in Australia?
One of the most common concerns for people planning to move to Australia to get higher education or for professional purposes is whether they have to appear for an IELTS examination or not. Usually, to travel to any country with English being its primary language, IELTS is the essential language test, and your score is used to demonstrate your competence in English. This is also applicable if you are going to Australia from India or from another country because English is Australia's primary language, and you must have a high IELTS score.
Alternatively, applicants may take the PTE (Academic), TOEFL, OET, or CAE English Tests, depending on the requirements of the specefic authorities under skilled migration.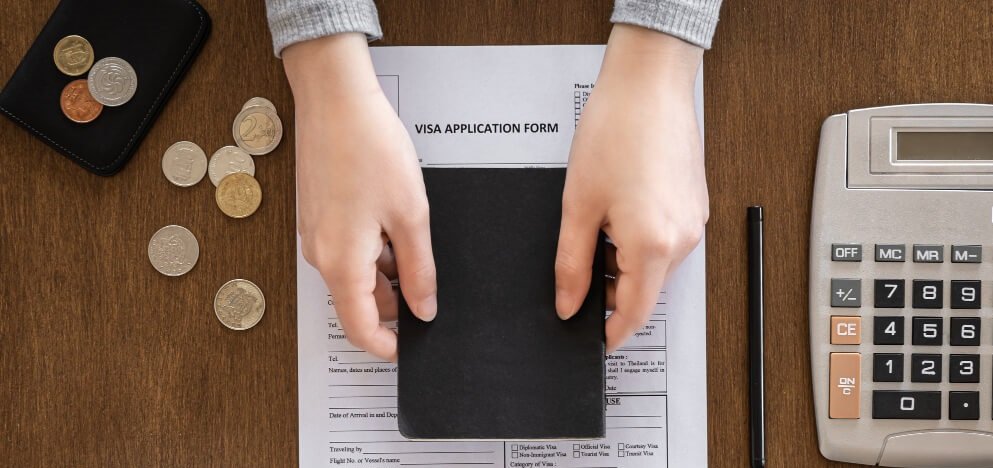 How much is the cost for a working visa to Australia?
In terms of cost, the price of a visa changes over time. If the cost of your application rises between the time it is submitted and the time the immigration department accepts it, you must pay the increased amount. Also, ensure you have enough money to meet the surcharges.
Visa application fees are typically in Australian dollars (AUD) and must be paid along with the application. In some cases, there are no visa application fees.
Can I convert a visitor visa to a work permit in Australia?
If you wish to come to Australia to work and live, you must consider that the simplest solution is to visit Australia on a visitor visa and then transfer it to a work permit. Most people, though, will find it difficult. That used to be the case, but getting a working visa for Australia is becoming increasingly difficult. But consider this as a very crucial concern which is whether we can convert tourist visas to work visas in Australia or not.
A guest visa cannot be extended or transferred into another form of visa i.e. a working visa. If you want to stay in Australia further as a visitor, you must apply for another visitor visa. Many individuals can only meet the requirements for a Visitor visa Subclass 600.
Envoy International
Can student visa dependents work in Australia?
One of the easier ways to obtain a visa to visit Australia is if you apply for a dependent visa. Usually, we tend to travel for a longer duration abroad, so we think we might as well earn some bucks while we are there in the country, but then the question arises, "Can I work in Australia on a dependent visa?"
Dependent visas may also vary from person to person and their relation with the primary visa holder. For example, it could either be your spouse or your children who are planning to continue their education abroad or are just in the country to see around.
Usually, a student visa would only allow you to bring close family members alongside you as dependents. This is characterized as follows:
A spouse or companion (including same-sex partners) with whom you have lived for the past twelve months.
It can either be your or your partner's children under the age of 18 or who are still in school (i.e. studying A-levels).
Please keep in mind that the student's course of study will determine the dependent partner's employment rights:
The dependent spouse can work up to 40 hours per fortnight if the student is pursuing a bachelor's degree.
If the student pursues a master's or doctorate degree, the partner will have entire and unlimited work permissions.
Envoy International
Choose Your Country






Envoy International
Talk to Our Visa Experts
Monday - Saturday | 8.00 - 18.00
Contact Us
Can you work in Australia on a bridging visa?
Depending on the visa conditions of your Bridging Visa A, you may very well be granted permission to work in Australia (BVA). These conditions will be indicated in your grant letter. Refer to VEVO, and check to see whether you have any work restrictions.
If your BVA does not allow you to work or imposes restrictions on your capability to work, you can reapply for yet another BVA that does. To be considered for a BVA that permits you to work, you must typically demonstrate financial hardship. If you do not meet the work criteria but are still qualified for a BVA, we will issue you a new one with the same work limitation condition as your previous one.
You cannot be awarded a new BVA that allows you to work if your current BVA prevents or restricts you from working in Australia and your current BVA was granted to you because you applied for judicial review of the decision issued on your substantive visa application or because you applied for a protection visa.
Final Words
So, this was all about applying for a working visa in Australia. Considering the process, many variables decide if you would be able to get a visa to study, work or travel to Australia. Envoy International is here to assist you with your other concerns; we are just a call away!
Envoy International
Let's Stay in Touch