Envoy International
Explore the benefits of having a B1 Visa in the United States
Who wouldn't want to work in New York City, have a house in Brooklyn, and spend their vacations in the Hamptons? That is the way of life for someone who lives on the Upper East Side. Do you not feel as if you are seeing the plot of a typical American daytime soap show right now?
Believe that we at Envoy International are able to direct and assist you in the process of turning your ideas into reality, and have confidence that we will be able to do so. Have trust in the thought that we are able to do so. They will take care of all the paperwork related to your excursions, regardless of whether those journeys are for business or pleasure, and the only thing you will need to worry about is making sure that the weight limit on your baggage is not surpassed.
Give them the opportunity to streamline the application processes so that it is as easy as spreading butter, with the end goal of you relocating to the city of your choice.
Apply Now
What is B1 type US visa?
Citizens of countries other than the United States are needed to get a visa before being allowed to lawfully enter the United States of America. This visa might be an immigrant visa, which would enable the holder to live in the country permanently, or it could be a nonimmigrant visa, which would allow the holder to remain in the country for a shorter period of time (between six and twelve months).
People who want to enter the United States temporarily for the purposes of a business (visa category B-1), tourism (visa category B-2), or for a combination of both purposes (B-1/B-2) are eligible to apply for visiting visas, which are classified as nonimmigrant visas. There are three distinct categories to choose from when applying for a visitor visa.
Top Countries To Work Abroad
Different Business Visa Type
B1 Visa
Discuss the matter with your professional contacts.
Participate in a convention or conference related to science, education, professional development, or business.
Bring closure to an estate
Negotiate a deal
B2 Visa
Tourism
Vacation (holiday)
Pay a visit to some of your close friends or family.
Medical therapy
Attendance in social gatherings organised and sponsored by fraternal, social, or volunteer groups
Participation in competitions or events held in musical, athletic, or other fields by individuals who are not receiving payment for their services.
Participation in a brief educational programme taken for personal enrichment rather than a credit toward a degree (for example, a two-day cooking class while on vacation)
Envoy International
Choose Your Country






Envoy International
Talk to Our Visa Experts
Monday - Saturday | 8.00 - 18.00
Contact Us
Eligibility Criteria
In order to be granted a B-1 visa, you are required to provide evidence of the following items:
Your intention is to enter the United States in order to do lawful business, which is why you are making this journey.
You want to stay for a certain span of time that is strictly confined.
You do not need to worry about finding additional funding to pay the costs of your travel or your time spent in the United States.
You have a home located outside of the United States that you do not intend to give up, in addition to other connections that are legally binding and will guarantee that you go back to your home country at the conclusion of your stay.
You are permitted to enter the United States under any other circumstances.
When it comes to making choices about foreign travel and, more particularly, doing business on a global scale, it has always been of the highest significance to take into consideration one's current financial status. This holds truest while crossing foreign borders. The fact that the very first thing that candidates want to know is how much money they need to have in order for it to work out for them is really not something that should come as much of a surprise.
To be eligible to submit an application for a tourist visa to the United States, what is the absolute bare minimum amount of money that has to be in your bank account at the time of application?
The amount of money that you need to have in your bank account in order to apply for a tourist visa to the United States can vary depending on the duration of your trip. In order to take a trip that is 15 days long, you need to have between $5,000 and $10,000 in your bank account at the very least.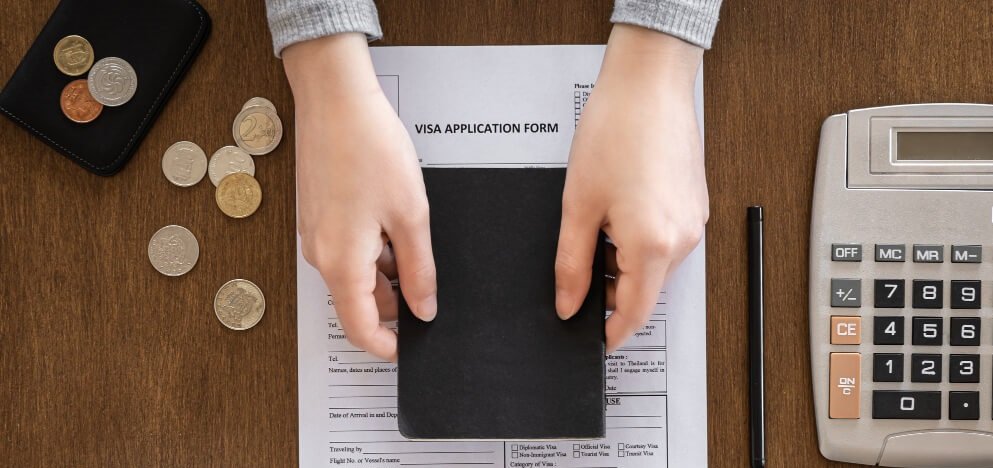 Is a B1 B2 Visa sufficient to enter Canada?
B-1 or B-2 Visas: If you have a valid B-1 or B-2 visa, you are permitted to travel to Canada or Mexico for up to 30 days during your stay in the United States and then re-enter the country as long as you do so within the timeframe specified on the Form I-94 that you received when you first entered the country. However, you must ensure that you return to the United States within the timeframe specified on Form I-94 before you are allowed to re-enter the country
Before you are permitted to re-enter the nation, you must first guarantee that you have returned to the United States within the allotted amount of time that is written on your Form I-94.
How can I change my B1 visa to an immigrant visa?
Check your credentials to see whether you may submit an application for a green card.
An immigration petition on your behalf must be submitted by either you or another person (if applicable)
Check visa availability (if applicable)
File Form I-485.
Proceed to your scheduled appointment at the Application Support Center.
Proceed to the interview you have (if applicable)
It is imperative that you respond to the request for more proof (if applicable)
Check the current status of your case.
Receive a decision
While on a B1 visa, am I able to legally marry a U.S. citizen?
It is possible to be married in the United States even if you are just here on a B-1/B-2 tourist visa or because you are participating in a visa waiver programme. This answer is in the affirmative. There is no provision in the regulations that prohibits tourists who are in the United States lawfully from getting married. This includes individuals who are here as tourists.
In point of fact, if you want to visit the United States on a tourist visa, you may do so with the intention of getting married while you are here. This is not prohibited.
When individuals come to the United States on a tourist visa with the evident goal of marrying a citizen of the United States and settling in the country permanently, this is when difficulties start to surface for them. It is illegal to enter the United States on a visitor's visa with the express aim of getting married in the country and then applying to alter one's status to that of a permanent resident after doing so. This practice is called visa fraud.
The immigration authorities of the United States do not take kindly to anyone who, in their opinion, has committed the crime of visa fraud.
Documentation Required for B1 Visa
The documentation requirements for a B1 visa are less severe than those for migrant visas since the B1 visa does not have a quota system. Your application package is required to include the following components in the majority of instances:
Your passport
substantiation of the money.
Documentation in support of the purpose of your trip to the United States
If you are going on the company's dime, a letter from your employer is required.
If you are travelling as a businessperson, you are required to provide evidence that you operate a business.
Insurance, in addition to the other necessary supporting papers
Since you have already experienced a portion of this trip, you are well aware of what needs to be done and how you may continue to progress.
Envoy International is able to provide you with assistance in developing and filing your B1 application in a manner that causes you the least amount of hassle possible. We are the best option for your visa needs since we provide assistance throughout the whole process and have an in-depth grasp of the regulations governing immigration to the United States.
Have a chat with us if you want to find out more about the steps you need to take in order to get a B1 visa for the United States.
Envoy International
Let's Stay in Touch